Presented by Andrew Moore
(1946) A woman (Geraldine Fitzgerald) enlists two men (Peter Lorre and Sidney Greenstreet) to join her in a ritual in which three strangers make a common wish before an idol on the eve of the Chinese New Year. All are secretly in desperate straits. One of the men has an Irish Sweepstakes ticket; the wish will be for it to win, with the winnings split between them. The act seems harmless enough, but it changes their destinies in ways none of them could have foreseen. This classically moody and tense film noir features a plot loaded with intrigue and innuendo; a complex, literate script by John Huston and Howard Koch; superbly atmospheric cinematography by the great Arthur Edeson; and outstanding performances by the entire cast. It's probably the only movie in which Peter Lorre plays something like the romantic lead, and he does so with a poignancy and grace that was all his own.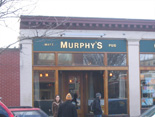 SPECIAL NOTE: Since we're screening on a Monday, the posse is planning to meet at Matt Murphy's at 5:00 PM for drinks and FREE OYSTERS. It's a short walk from the screening: at 14 Harvard St in Brookline Village. They serve free oysters from 5-7 PM on Mondays. Try to get there before 6 PM when it starts filling up for dinner (or RSVP to David and we'll hold a seat for you). A great little bar and well worth the trip.