(1947) Charley Davis (John Garfield), against the wishes of his mother (Anne Revere), becomes a boxer. As he becomes more successful, the fighter becomes surrounded by shady characters, including an unethical promoter named Roberts (Lloyd Gough), who tempts the man with a number of vices. Charley finds himself faced with increasingly difficult choices. With Lili Palmer and William Conrad.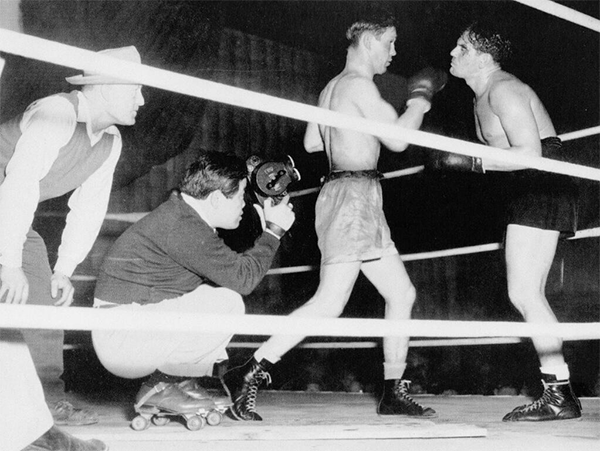 Often considered the greatest boxing movie every made, it's influence can be seen in every boxing film that followed, including such classics as Champion (1949) and Raging Bull (1980). Gritty realism, harsh lighting and a cynical view of the sport became the standard for fight films after it. Film critic Dennis Schwartz: "Robert Rossen's Body and Soul becomes more than a boxing and film noir tale, as screenwriter Abraham Polonsky makes this into a socialist morality drama where the pursuit of money becomes the focus that derails the common man in his quest for success." And, of course, the cinematography by James Wong Howe set a standard for the fight film. Not content to park his camera ringside, he got into the ring on roller skates, holding a 16mm camera while an assistant pushed him into the action. Said Howe, "I wanted an effect where the boxer is knocked out and he looks up into a dazzle of lights; with a heavy, fixed camera, you'd never get that." Note Wong in the fight photo.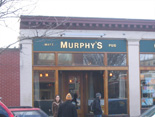 SPECIAL NOTE: Since we're screening on a Monday, the posse is planning to meet at Matt Murphy's at 5:00 PM for drinks and FREE OYSTERS. It's a short walk from the screening: at 14 Harvard St in Brookline Village. They serve free oysters from 5-7 PM on Mondays. Try to get there before 6 PM when it starts filling up for dinner (or RSVP to David and we'll hold a seat for you). A great little bar and well worth the trip.