With the release of "1917," thought it would be fun to screen what many feel is the greatest anti-war film ever based on German writer Erick Maria Remarque's brilliant novel. The film was banned in many countries before and during WW2. It won the best picture Academy Award and was directed by Lewis Milestone, scripted by Maxwell Anderson (Key Largo, The Bad Seed), and photographed by the great Arthur Edeson (Casablanca, Maltese Falcon, Frankenstein, The Thief of Bagdad).
(1930) This is an English language film (made in America) adapted from a novel by German author Erich Maria Remarque. The film follows a group of German schoolboys, talked into enlisting at the beginning of World War 1 by their jingoistic teacher. The story is told entirely through the experiences of the young German recruits and highlights the tragedy of war through the eyes of individuals. As the boys witness death and mutilation all around them, any preconceptions about "the enemy" and the "rights and wrongs" of the conflict disappear, leaving them angry and bewildered. This is highlighted in the scene where Paul mortally wounds a French soldier and then weeps bitterly as he fights to save his life while trapped in a shell crater with the body. The film is not about heroism but about drudgery and futility and the gulf between the concept of war and the actuality.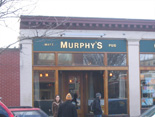 * SPECIAL NOTE: Since we're screening on a Monday, the posse is planning to meet at Matt Murphy's at 5:00 PM for drinks and FREE OYSTERS. It's a short walk from the screening: at 14 Harvard St in Brookline Village. They serve free oysters from 5-7 PM on Mondays. Try to get there before 6 PM when it starts filling up for dinner (or RSVP to J-P and we'll hold a seat for you). A great little bar, well worth the trip.