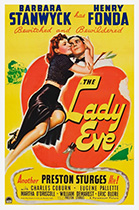 A fitting choice by popular vote that we return with a light comedy. Happily, it is by the same filmmaker who we originally began with: the great Preston Sturges, considered by many the first Hollywood indpendent hyphenate filmmaker. And starring one of the greats actresses of the days of the silver screen: Barbara Stanwyck.
(1941) Returning from a year up the Amazon studying snakes, the rich but unsophisticated Charles Pike (Henry Fonda) meets con-artist Jean Harrington (Barbara Stanwyck) on a ship. They fall in love, but a misunderstanding causes them to split on bad terms. To get back at him, Jean disguises herself as an English lady, and comes back to tease and torment him.
I look foward to gathering together again, have a lively discussion, plan future screenings. Based on people preferences, I foresee showing "Sunrise" by F.W. Murnau on June 25 and "Laura" by Otto Preminger on July 9. Eric Van will present ideas for his smaller screenings in alternate weeks. See you Tuesday.