Dueling presenters Jean-Paul Ouellette and David Kleiler cross swords.
(1966) The quintessential sixties film, Blowup, or Blow-Up, directed by Michelangelo Antonioni. Swinging London is seen through the eyes of fashion photographer Thomas, played by David Hemmings, seeking to find a reality to ground himself in the unreal world of fashion and pop culture. He believes he has unwittingly captured a murder on film. It was Antonioni's first entirely English-language film. The film also stars Vanessa Redgrave, Sarah Miles, John Castle, Jane Birkin, Tsai Chin and Gillian Hills as well as sixties model Veruschka. The screenplay was by Antonioni and Tonino Guerra, with English dialogue by British playwright Edward Bond.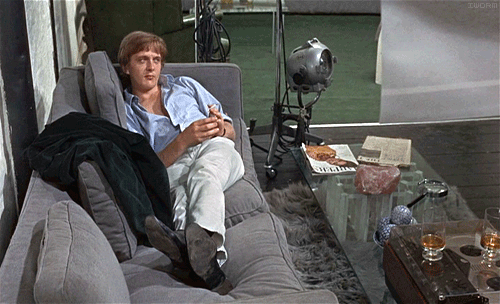 The plot was inspired by Julio Cortázar's short story, "Las babas del diablo" or "The Devil's Drool" (1959), translated also as "Blow Up" in Blow-up and Other Stories, and by the life of Swinging London photographer David Bailey. The film was scored by jazz pianist Herbie Hancock. The music is diegetic, as Hancock noted: "It's only there when someone turns on the radio or puts on a record." Nominated for several awards at the Cannes Film Festival, Blowup won the Grand Prix.
The American release of the counterculture-era film with its explicit sexual content (by contemporary standards) by a major Hollywood studio was in direct defiance of the Production Code. Its subsequent outstanding critical and box office success proved to be one of the final events that led to the final abandonment of the code in 1968 in favour of the MPAA film rating system. In 2012, Blowup was ranked No. 144 in the Sight & Sound critics' poll of the world's greatest films.